Each weekday this week, I'll be posting a pair of mini-reviews covering selections from the latest additions to the LCBO's Whisky Shop premium whisky program, and the products in the LCBO's Summer 2011 Specialty Beer promotion. Today, it's two that I'd have no trouble drinking a lot of on a regular basis…

Isle of Arran 10 Year Old
(LCBO 221069 – $49.95/750 mL)
Here's something that proves I still have a lot to learn about whisky: When I see "Isle" on a label, I expect something peaty and smoky to come out of the bottle. Not only because I love whiskies in that style, but because "Isle" makes me think of Islay, the Scottish island where almost every whisky they make fits that template. But then I remember that there are distilleries scattered across other islands that produce whiskies in a variety of styles, from soft and sweet to full of peat. This 10YO from the Isle of Arran Distillery leans more towards the sweet side, although the aroma starts with a bit of sea and smoke before elegant notes of vanilla and cream come through. The mouthfeel is soft and supple, and the flavour holds a nice combo of melon, vanilla, coconut, pear, subtle oak, and a hint of spice in the finish. Not one to wow the crowd, but for an everyday easy drinking malt, it's a great choice.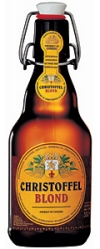 Christoffel Blond
(LCBO 696955 – $2.85/330 mL)
When choosing which beers to write up from the seasonal releases, I usually pick ones that are first timers, as they may need a bit more attention than those that have been on the shelves here before. But I'll make an exception for Christoffel Blond, as it's a beer that I will praise any chance that I get. Plus it allows me to poach from an earlier review, when I described it as having "a rich golden hue and a good sized snow white head"; an aroma that "reveals a strong herbal and floral hop character, with some candyish notes as well"; a body that's "crisp and full and quenching"; and a flavour that is "a tasty combination of sweet orange candy, sharp green herbs, and a refreshingly bitter citric finish." Gorgeous stuff that I drink loads of every time it shows up in Ontario – and it's great liquid for steaming mussels as well.