If you've read this blog for any length of time, you'll know that things being late is pretty much par for the course. So just as with my previous week of tandem whisky and beer reviews, the one intended to posted on Friday was, uh, not. I'm sure no-one but me noticed, but for the sake of completeness, here it is now…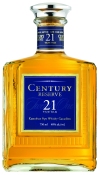 Century Reserve 21 Year Old
(LCBO 231704 – $48.95/750 mL)
This 100% corn whisky is one of a multitude of spirits and liqueurs produced by Highwood Distillers in Calgary, and while some of their brands are aimed at the mid- to low-end of the market, this is one of their more premium bottlings, and it's gotten a fair bit of acclaim from critics and aficionados of Canadian whisky. And after tasting it myself, I'd say that the praise is well deserved. Showing a light, bright golden hue, it has a soft aroma of butterscotch, pepper, citrus, honey and toasted wood. The flavour opens with a good hit of citrus – notably lemon peel – with some pepper behind, followed by notes of butterscotch and toffee that build toward a sweet middle, and then subtle finish where the pepper comes back into play. A very good whisky that's quite different from the Crown Royal Cask No. 16 that I reviewed earlier, but at a similar level of quality for less than half the price.

Lindemans Gueuze Cuvée René
(LCBO 224824 – $6.45/375 mL)
It's going to be a month or so until this one appears on the shelves along with its companion, Lindemans Kriek Lambic (LCBO 224816 – $5.95/375 mL), but it's been so long since we've had a proper gueuze at the LCBO that I couldn't resist reviewing it now. Traditionally an unflavoured and unsweetened blend of both old and new lambics, much of the gueuze available today has been sweetened to appeal to a wider range of drinkers, but Cuvée René is the real deal. It's crisp and tart and funky, with notes of barnyard and lemon and musty leather coming through in both the aroma and flavour. While quite noticeable, the sour tartness isn't overpowering, which makes this brew a good introduction to traditional gueuze for those who may be unfamiliar with the style. And while more seasoned drinkers may consider it inferior to the beers of such venerable gueuze producers as Cantillon and 3 Fonteinen, the odds of us seeing any of their bottles on LCBO shelves any time soon is probably pretty damn low, so let's be at least somewhat thankful that we'll soon be able to get this one.