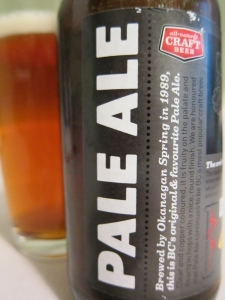 Way, way back in the days when the number of Canadian beer bloggers could be counted on one hand, it was pretty easy to write about a new (or even old) beer with some confidence that you'd be the only person doing so. Nowadays, though, there are so many of us – and so many breweries and PR companies sending samples to most of us – that my RSS feed of Canuck beer blogs can be a bit of an echo chamber at times.
Case in point: A couple of weeks ago, a bunch of us in Ontario were sent six-packs of Okanagan Spring Pale Ale, a BC beer that has been available on tap here for a couple of years, but is new to the LCBO. I've made a point to try and avoid reading the reviews that have followed in hopes of giving an untainted opinion, so I'll be curious to go back and see what the rest of the guys thought.
First, I don't often mention packaging when writing up reviews, but I have to compliment whoever designed the branding for this beer. The label is particularly nice, with striking iconography and a unique layout that has text and graphics going every which way without looking too busy or cluttered. With such an impressive introduction, it's just too bad that the beer itself isn't nearly as inspired or innovative.
That's not to say that there's anything particularly wrong with it: from its bright copper colour , to its clean aroma and flavour that bring together notes of toasted grain, fruity malt and cut-grass hops, to its soft and crisp mouthfeel, it's a perfectly pleasant beer. I had no problem drinking all six, with a few of them accompanying meals such as pizza and roti and doing a decent job of it.
What they didn't do, however, was leave any sort of impression behind. While drinking, I'd think "yeah, this beer is all right" – and a few minutes after finishing, I'd barely remember what it looked, smelled or tasted like. Even now, just moments after polishing off the last bottle, I'm already having a hard time recalling anything about it that would make me want another.
And needless to say, that isn't a good state to leave a beer drinker in when you're hoping to get them to buy more of your product.