Over the last several months, I've received a number of books for review, but various circumstances have meant that I've barely had the chance to read them all in full, let alone give them each a proper review.
So with Christmas looming and lots of people scrambling for last minute gift ideas, I thought that a mini-reviews of a half-dozen of them might help solve some shopping dilemmas (assuming that you have a combination beer geek and bookworm on your list, of course) – and it will also help me clear my backlog of planned blog posts so I can get a fresh start in 2011.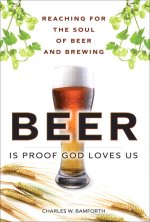 BEER IS PROOF GOD LOVES US
Reaching for the Soul of Beer and Brewing
by Charles Bamforth
FT Press – US$25.99/CDN$29.99
When I saw the title of this book – which references a quote attributed to Benjamin Franklin that's been proven to be false – I was disappointed that an author like Bamforth, who is one of the world's leading experts in the science of brewing and fermentation, would make such an amateurish error. But thankfully, the book opens with an "About the Title" page that debunks the myth, and what follows is an interesting and entertaining combination of social history, business analysis and personal memoir; all revolving around the idea of respecting beer in all of its forms, and the corresponding preferences of every type of beer drinker, from the weekend Bud boys to the hardcore hopheads.