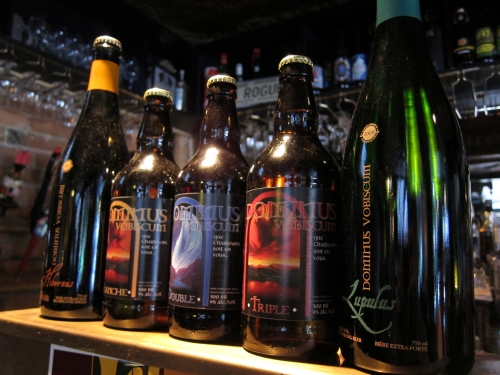 In order to start giving this blog some semblance of regular content, I'm going to try and post a link to my column on Taste T.O. each week. If I'm on the ball (which I am this week, surprisingly), I can even write it up and schedule it at the same time as I schedule the Taste T.O. post so they'll go up simultaneously. Mmmmm, technology!
This week, it's a review round-up of nine beers from MicroBrasserie Charlevoix that were launched in Ontario this past weekend via the fine folks at HMH Negotiants import agents.
(Note to non-Canadian readers: Yes, beer from Quebec – or any other Canadian province – needs to be "imported" in order to be sold in Ontario. It's all very silly.)
In addition to the beers brought in by HMH for the launch, I also recently had the chance to try Charlevoix Dominus Vobiscum Brut, a limited edition beer created in the Champenoise style; i.e. with champagne yeast used for fermentation, and the traditional steps of "remuage" and "dégorgement" following. The result is a sparkling and effervescent golden ale with a very complex character, combining aromas and flavours of sweet fruit (notably peach and lychee), florals (rose and lavender), mild spice and yeast, and mellow herbal hops. Really nice stuff, and one of the better examples I've tried of this still rare beer style.