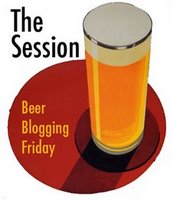 I'm sure my tens of readers will be happy to know that I'm still alive. I've just been even more busy and/or disorganised than ever these past few weeks. Hence the continuing lack of posts.
I couldn't miss a Session, though. If I did, they might take away my membership in the sooper-seekrit beer bloggers cabal or something.
The theme of this month's edition – as chosen by the poetically-inclined Captain Hops at Beer Haiku Daily – is Beer and Food, which gives me the incentive to finally get around to posting about an interesting tasting I hosted a couple of weeks ago in a somewhat unlikely location.