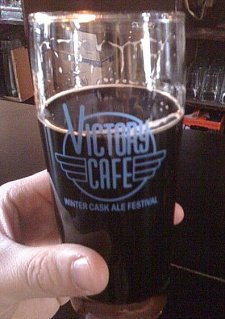 The Victory Café held their much anticipated Winter Cask Ale Festival this past Saturday, and as others have noted, it was a huge success. Perhaps too huge, as the 13 casks were drained by 5:00 PM, 2 hours before the event was supposed to end.
But hey, who can complain? Well, people who showed up late, I guess. But if you got there earlier, there was plenty of good beer, great food, and, uh, nowhere to sit if you arrived after 12:30. Luckily, the wife and I made our entrance a few minutes before that and snagged one of the few remaining spots on the second floor, which made for a somewhat anti-social outing given that most of our friends were on the main floor, but meh, I can hang out with those bastards any time.
My drinking concentrated mainly on the exclusive and first-time beers that were available, and while nothing completely blew my socks off, there were a couple of very solid efforts. County Durham Red Dragon was an interesting one, with a more earthy and chocolatey character than the amber colour suggested, and I really enjoyed the Neustadt 180 Lager, although I think the light body and green tea notes make it a better summer refresher than a winter beer. (Given that the 180 refers to the number of days it's aged, they'd best be brewing a batch right now so I can enjoy it in July…)
The kitchen did a great job as well, with three different warm and hearty dishes to choose from. I didn't try the beef stew, but the chicken curry was excellent, and the veggie stew was quite good as well. I've also been impressed by the last couple of meals I've had from the regular menu – it's fairly standard pub fare, but they've been doing more in terms of using fresh ingredients, which makes a big difference.
It was obvious that the folks at the Victory didn't expect such a big turnout. Their previous cask event, held on the patio on a beautiful summer day, brought in less than 100, so who would've thought they'd reach capacity and have line-ups in the middle of the winter? As great as it is to have a casual, pay-at-the-door event, they may need to look at doing advance ticket sales for future events.
Kudos and congrats to the Victory, the brewers and everyone else involved for their success.
[Photo nicked from my pal, Alan Daly]