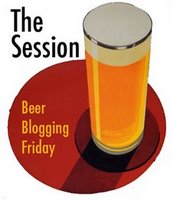 You know the drill by now: First Friday of the month, beer bloggers, The Session, blah blah blah. This month, we're being hosted by Rick at Lyke 2 Drink, and he instructed us to go on the hunt for beers that have animals in the name and/or pictured on the label.
As I lamented back when the theme was announced, the selection of animal-related beers here in Ontario is quite pitiful. Aside from the dogs that appear on a few Scotch-Irish tap handles and the Monkey Brown Ale at Burlington's Pepperwood Bistro brewpub, I can't think of any Ontario-made beers fitting the theme. And on the import side of things, due to the fact that the LCBO and Beer Store carry S.F.A. in the way of decent American micros, the critter selection is limited to such craptacular lagers as Kingfisher and Tusker. Bleh.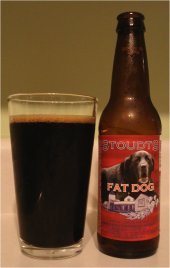 I was seriously considering take a pass on this month's Session, until I was sorting through my stash the other day and found a beer that I'd completely forgotten I had on hand: Stoudt's Fat Dog Stout. One of my favourite animals, one of my favourite styles, and a beer that I hadn't tried before. The animal gods must be smiling upon me.
In the glass, it's has a dark ruby-black colour with a small tan head, just like a good stout should. The aroma is big and robust, with lots of roast malt, coffee, anise, and alcohol. It has a thick, rich mouthfeel, and the flavour is sweet to start, with molasses and dark fruit; some bittersweet chocolate, cherry and espresso in the middle; and bitter finish with some slightly charred & sour notes.
I'm hitting the bottom of the glass as I write this (no, not first thing on a Friday morning – I'm actually prepared this month and got this written and scheduled in advance!), and the 9% alc has certainly crept up on me. Such a friendly looking dog on the label, but he'll bite you on the ass if you're not careful.
Speaking of dogs, mine are wanting to be let out, so I should be off. Thanks for the fun theme, Rick. Woof.