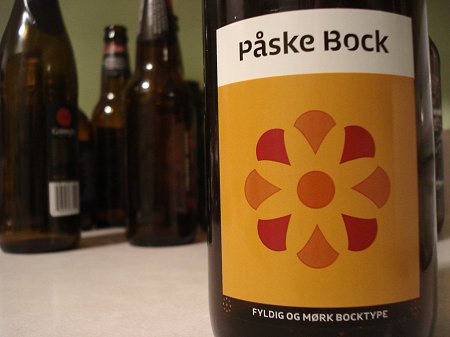 If you live in Toronto and like good beer, you've likely heard about little shindig happening on Wednesday night this week: In the tradition of previous brewmaster's dinners like last year's Dogfish Head event and 2007's Brooklyn happening, beerbistro along with import agents Roland + Russell are presenting a Danish Beer Dinner, featuring the beers of Mikkeller and Nørrebro Bryghus, and a talk by Nørrebro brewmaster Anders Kissmeyer.
To give me an advance taste of what the event has in store, R+R slipped me a bottle of Nørrebro PÃ¥ske Bock a few weeks ago, and I finally got around to cracking it open last Friday when I had a couple of friends over for a beer tasting. It was Good Friday, in fact, which was very fitting as the brewery describes this doppelbock  as being "brewed according to the original bock tradition, which used to be the point of origin for Danish Easter brews."
Here's the thing, though: While I really like well-made doppelbock s, I also find it hard to say much about them. My tasting notes usually end up being quite short and consisting of some combination of  "dark brown", "malty", "roasty", "dark fruit", "medium bodied", "balanced" and "tasty". Which is pretty much what happened with this one. We all enjoyed it, and agreed that we could easily drink a couple, but didn't have anything overly descriptive or profound to say about it.
I also imagine that I won't be saying anything descriptive or profound by the end of tomorrow's feast, as the 8 courses of food and beer pairings will likely leave me too full and drunk to say much more than a few incoherent grunts and mumbles. Good thing I've got Thursday booked off work…
If the dinners mentioned above are any indication, this will be one of Toronto's top beer events of the year. For those who don't have tickets yet, there may be a few spots left – call 416.861.9872 to check. You'll hate yourself for missing it. Seriously.
PS: Forgot to mention how much I love the Nørrebro Bryghus labels. They've got that minimal and consistant look that I love. Can't wait to see a few of them lined up together tomorrow night.