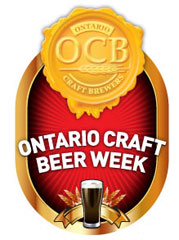 My weekly beer column for Taste T.O. this week is a preview article for Ontario Craft Beer Week, which is taking place and breweries, bars and restaurants all over the province on June 20th to 26th.
The article features a few quotes from Steve Beauchesne (co-organizer of the Week, and co-owner of Beau's All-Natural Brewing) and Jed Corbeil (co-organizer of Session: A Craft Beer Festival, the biggest event of the Week, and co-owner of The Griffin Gastropub in Bracebridge) taken from short Q&A interviews I did with each of them via email. And since I didn't use the full interviews for the article, I thought I'd share them here…
Steve Beauchesne
What inspired the Ontario Craft Brewers to do an OCB Week? Has it been in the works for a while?
It's funny, we've talked about it for a while, but made the decision to tackle it this year very suddenly. Craft beer weeks have been popping up in Vancouver, San Fransisco, New York and more and they seemed like a great way to build awareness with customers and build on the collaborative nature of craft breweries.