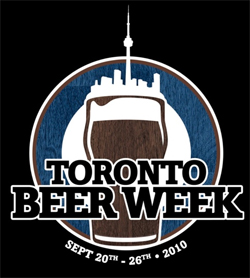 It's only a few hours old, but I already feel like I haven't written enough about Toronto Beer Week. Loads of other folks – like Jordan, like Stephen, and Jordan, and Troy, and Jordan, and Chris, and, uh, Jordan – were all over it well in advance, which has given me a bit of the ol' blog guilt.
In order to assuage that guilt somewhat, I'm going to attempt to post a daily TBW diary this week, which will likely consist mainly of photos and a couple of paragraphs posted each day as a recap of the day before. Or that's the plan, anyway. And I'll likely be doing plenty of tweeting, as will many other folks.
To kick it off, here are some highlights from the TBW pre-party of sorts that took place this weekend, when the folks from Brasserie Dieu Du Ciel! came in from Montreal for a few events to mark their recent brewery feature at the LCBO.