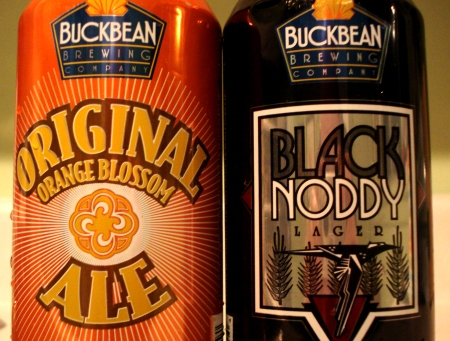 Now that I'm back to blogging on a semi-regular basis, I figure it's about time that I catch up on posting reviews of a few beers that I received and drank during my unintended break. First up: A pair of brews from Buckbean Brewing Company, a relatively new brewery in Reno, Nevada.
I was first contacted by someone at the brewery back in the spring or early summer with an offer to send me some samples to review. The first attempt to get a package to me failed when it disappeared along the way – likely due to thirsty customs agents opening it for inspection – so I arranged for a friend in Buffalo to receive a reshipped box, and eventually got the beers in September, at which point the ol' blog was on an unintended hiatus. At least I was on the ball enough to take a picture when I drank them!
I was really interested in trying these beers for several reasons. First, I'd never tried a beer from Nevada before (not surprising, as the state isn't exactly a hotbed for craft brewing action). Second, the styles of the brews – a schwarzbier and an orange blossom ale – are pretty unique for a fledgling brewery to come out with as their first offerings. And third, they're in cans, which I'm glad to see more and more small breweries moving towards (for beers that are suitable for cans, at least).
As it turns out, I was pretty impressed with both of them, or so my tasting notes from the time suggest:
Buckbean Original Orange Blossom Ale
Slightly hazy orange-amber with a small white head. Aroma of orange popsicle and mild caramel malt with a hint of hops. Medium bodied. Fresh tasting, with notes of orange water, floral tea, sweet malt and mild herbal hops with a refreshingly dry finish. A nice, fresh, summery ale.
Buckbean Black Noddy Lager
Deep brown – almost black – with a medium tan head. Aroma of charred and roasty malt with notes of coffee and cocoa and a bit of smoke. Medium bodied. Flavour follows the aroma very closely – rich and roasty with hints of coffee, cocoa and smoke – and a dry, well-bittered finish with some nutty notes. Excellent!
So, belated thanks for Buckbean for sending these beers my way (twice!), and apologies for taking so long to post my thoughts on them. It's been years since I've been in Nevada, but it's good to know that there will be at least a couple of decent beers for me to drink down there if/when I ever make it back.