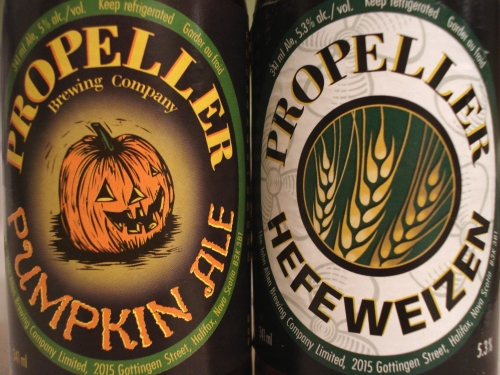 Yes, I know that  promised a series of Innis & Gunn review posts, and they'll be coming soon eventually, and more as well. But I wanted to get this post up quickly while at least one of the beers is still in season.
The trigger for this was a package I got from Propeller Brewery in Halifax a couple of weeks ago with some bottles of this year's batch of their Pumpkin Ale. It's a beer that I liked a lot when I tried the 2006 version, so I was happy to give it another go, and even happier to find it just as good as I remembered it. In fact, based on this tasting notes from back in '06…
Hazy light gold with a massive rocky white head. Big pumpkin pie aroma – cinnamon, cloves, ginger, mutmeg, pumpkin – very nice! Body is quite aggressively carbonated at first, but mellows as it warms and flattens a bit. Flavour of a pleasant, well-made golden ale laced with pumpkin and spice, and a dry finish with an interesting lemon cookie note. Very refreshing brew that lacks the cloying character that taints some other pumpkin beers I've tried.
… it appears that it hasn't changed much since then. Which is perfectly fine.
And since I was in a Propeller mood tonight, I reached further into the fridge for the bottle of Propeller Hefeweizen that my friends Jeremy and Karen passed on to me a couple of months ago. I really should've had it sooner, as it was already 4 or 5 months old by then, and hefes are always better fresh. But it was still in OK shape considering:
Cloudy golden with a medium white head that recedes to a thin film that sticks around through the whole glass. Lightly yeasty aroma with hints of lemon and pineapple. Good mouthfeel with a nice level of carbonation. Flavour is a bit muted, but what's there is pleasant, with nice tropical and citrus fruit notes, some crispness from the wheat, and a mildly spicy and yeasty finish. Based on the label, it looks like this was bottled back in April, so drinking it six months later I'm obviously not getting it at it's prime. It's still a decent hefe, though.
I briefly considered making it a Halifax trio and cracking the Garrison Hop Yard I've got chilling in there, but it's getting late. So I decided to hold off, and will perhaps bring it out along with a bottle of the Ol' Fog Burner Barley Wine that I'll be reviewing later this week for the next issue of TAPS.