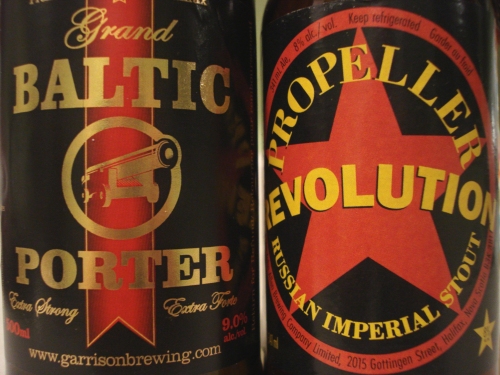 The world of beer from Halifax may begin and end with Keith's for less astute beer drinkers, but those of us In The Know are well aware that some of the best beer in the country is being brewed in Nova Scotia's capital (which I call "Nova Scotia's capital" rather than by a cool or historic nickname because apparently Halifax doesn't have one yet…).
Aside from being the original hometown of the Granite Brewery, one of Canada's first brewpubs, it also has a couple of great brewpubs, and two full-scale craft breweries – Propeller and Garrison – that have been increasing their profile outside of the province considerably in the last few years. They're also two of the few breweries that occasionally send me samples  – in fact, I've received both of their respective winter seasonals recently, so it's only fair that I give a few thoughts on them:
Garrison Grand Baltic Porter is back for a second year, and it remains a really interesting take on the style. The ones I've tried from actual Baltic states have tended to be fairly sweet and malty, but this dark mahogany-brown beer has a really unique, complex and mildly tart fruitiness going on in the aroma and flavour, with notes of prunes, raisins and dark cherry. There's a subdued roasty malt character, with suggestions of cocoa and hazelnut, even a bit of licorice, but it's those dark fruit notes that are in the forefront. And except for a short hint of heat in the finish, the 9% alcohol is really well-hidden.
The same can't be said for this year's batch of Propeller Revolution Russian Imperial Stout, which comes across a bit boozier than the Garrison despite being 1% lower in abv. It's also somewhat hoppier, which probably adds to the pleasantly tingly burn in the finish. And here's lots of other stuff going on in there as well – stuff like molasses, charred wood, coffee, dark chocolate, and other lovely things that you'd expect to whiff and taste in an almost pitch-black Imperial Stout.
Both great sippers for a cool winter night. Nice job, Halifax! (Oh, and thanks for giving me my wife as well…)