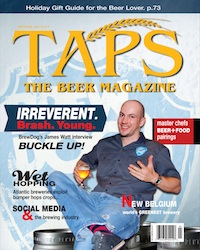 It's been a while since I last mentioned it here, but I'm still doing a some writing for TAPS Magazine, the quarterly publication that looks at the beer and brewing industry from a Canadian perspective – although since changing the subtitle from "Canada's Beer Magazine" to "The Beer Magazine" a few issues ago, the scope has expanded to include more content from beyond our borders. It's a magazine that keeps getting better and better, and even if wasn't writing for it, I'd be reading every issue from cover to cover.
While my "Beer Styles 101" column is no longer appearing in its pages (since, as I noted last summer, I pretty much ran out of major styles to feature), I'm still on the review panel for the "Tasting Notes" in each edition, and I'm contributing other stuff from time to time. Amongst that other stuff is an article in the Winter 2010-11 issue looking at how Canadian breweries are using Twitter, Facebook and other social media to promote their brands and connect to their customers.
My original intention was to write an editorial-style article with quotes interspersed here and there from some brewery folks that I interviewed via email. But when I started getting fantastic answers back from the interviewees – including Steve Beauchesne of Beau's All-Natural Brewing, Karen Gaudino of Creemore Springs Brewery, Tina Wolfe of Wild Rose Brewery, and Ferg Devins of Molson Coors Canada – I realized that running the four Q&As pretty much in full along with a short introduction would give a better idea of the whats, hows and whys of beer and social media in Canada than anything I could write myself.